Dictaphone
With a dictaphone, you can record interviews in a secure way (instead of on internet-connected equipment such as a smartphone).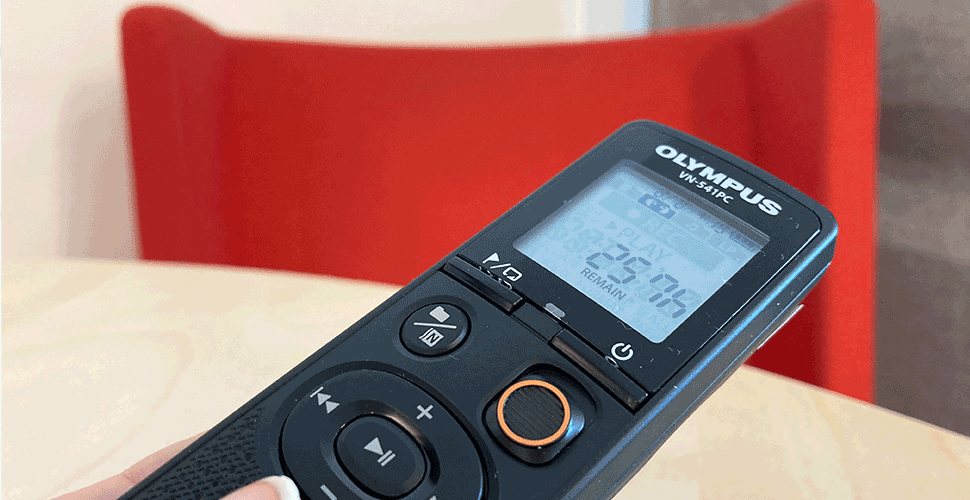 Remember to test the dictaphone before use. Make sure it has enough battery and feel free to place it on a soft surface, e.g. a tablecloth, during the interview to avoid echoes and other sounds from the table.
The recording will be in .wma format.
How to use the dictaphone
Press the dictaphone on / off button
Press the button with the folder icon to select which folder you want to record in. The recorder has five different folders you can select from.
Slide / press the record button to start recording. REC can be seen on the display screen that the recording is in progress.
To turn off recording, press / slide back the recording button.
To listen to your recordings, use the forward / backward buttons to scroll through the files (.wav) and press the play / pause button to play.
NOTE! Remember to delete the recorded files before returning the equipment and you have finished your transfer. You do this either via PC or by pressing the trash button on the recorder when the current file is visible on the display.
You can also read more about the dictaphone's uses via Olympus' own website or follow this instructional video:
Can't find your files?
Sometimes you may have accidentally recorded in the wrong folder. Check all five folders of the recorder as you search for your recording.
Loan period
The dictaphone has a two-week loan period. You also have the option of extending the loan twice if no one is queuing for it. Renew the loan via your library account.
You can also queue up or reserve the equipment by searching for "dictaphone digilab" in the library search.