360 degree photo and video
Take 360-degree photos and videos to share the full experience of a room or environment. These photos can also be viewed with a VR headset!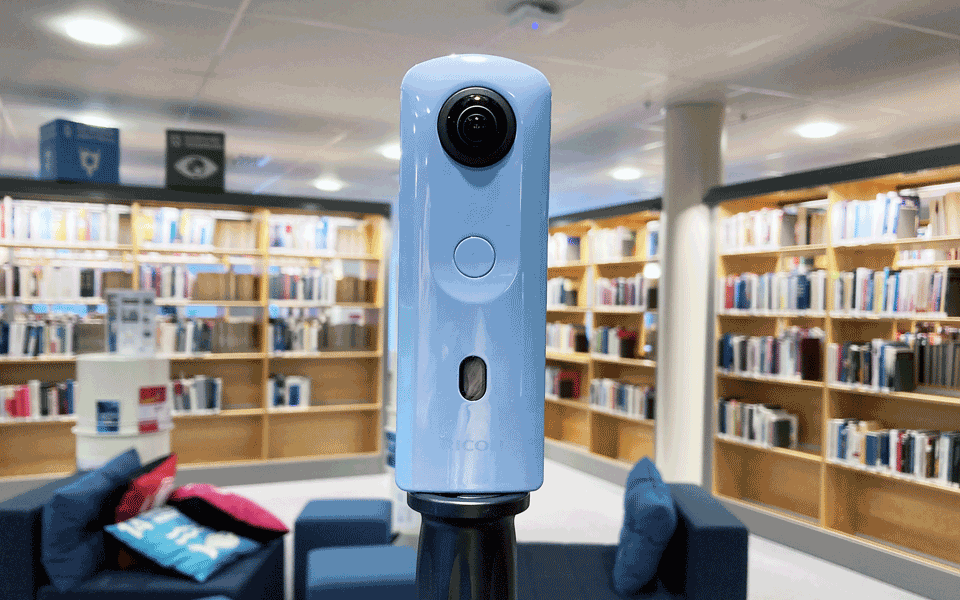 See examples of how you can use the camera on Theta360.com. For example, you can experience the environment you photographed using a VR headset. The camera has 14 GB of file space. A 1 minute video is ca 0,5 GB in file size.
How to use the 360-camera
Place the camera on the tripod or hold it in your hand.
Press the camera's power button located on the side of the camera.
Select whether to shoot or record video with the photo button on the side of the camera. You can see on the display screen which mode is activated.
Take the photo / video by pressing the blue button under the camera lens.
Transfer the images from the camera to your computer using the white cord in the bag.
Remember to turn off the camera when you are done.
How to use the tripod
Pull the upper part of the tripod. Turn the part left to adjust the height and to extend the legs of the tripod.
To lock the height, turn the upper part of the tripod to the right.
Using the camera on a distance with your smartphone
Start with downloading the Theta-app
This camera can be used with a smartphone or tablet. To do this, download the Theta app (Ricoh Theta). On this page you can find software to capture and share photos. 
You can also fins this app on the DigiLab iPad, available for loan in the library information desk.
How to sync the camera to the Theta app
Turn on the camera.
Press the Wireless LAN button (Wifi). The Wifi-icon should flash on the camera display.
Open your smartphone settings app, choose Wifi and select the cameras own connection: THETAYPXXXXXXX.OSC (you will see numbers instead of XXX)
Use the numbers on the Theta-wifi as password.
Open the Theta app, press the Theta-symbol to take a photo (an icon consisting of a ring with a dash in it).
Follow the instructions that appear on the screen to register the camera to your app/phone. When this is done you can use the same button to take photos with the camera.
You can also read more about the camera's uses via Theta manual for how to use the camera or follow this instructional video:
Share your image / video
If you want to add your photo to a webpage, blog or similar platform you will need an embed code. You can find several options online for retrieving such code, search for "embed 360 photo". You can also create an account on the Theta webpage for more sharing options.
Share the image / video to social media such as Facebook or Twitter via the Theta app.