Mini camera
Borrow our mini-camera to film, photograph or take process photos with an ultra-wide-angle lens and Full HD. The camera can also be used remotely using your smartphone.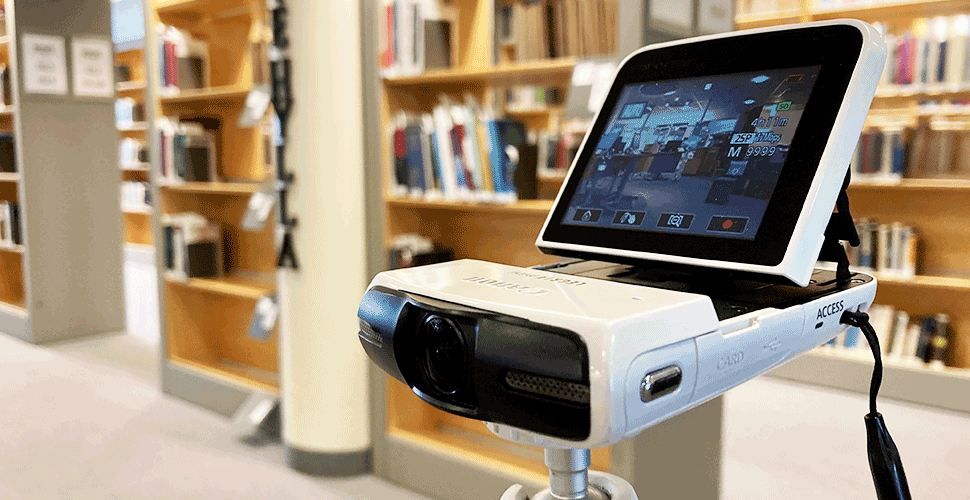 How to use the camera
Attach the camera to the tripod. Extend the tripod legs by loosening the clips on the legs. 
Turn on the camera by sliding the on / off button on the side of the camera
Make sure MP4 is selected as the recording format and not AVCHD (if you need to change, see instructions further down the page).
Adjust the camera by adjusting the tripod and the angle of the camera so that the image on the screen looks the way you want the movie to look.
To start filming, press the red button on the side of the camera. When the camera is recording, a red light on the back of the camera lights up.
When you have finished recording, you can transfer the files (.mp4) to your computer using the USB cable provided in the camera bag. The camera needs to be turned on to transfer the files.
Once you have connected the cord from the camera to your computer, press the "play" button on the side of the camera and the computer will connect to the camera.
NOTE! Remember to delete the recorded files when you have finished your transfer and are returning the equipment.
To see a full description of how to use the camera, watch this video:
How to change the video format
To change the format, tap the house symbol on the camera screen.
Scroll through the selections until you reach "other settings" (icon with a hammer and screwdriver)
Select "movie format - MP4" from the list of options.
Loan period
The camera has a two-week loan period. You can extend the loan twice if no one is queuing for the camera. Renew the loan via your library account.
You can also queue up or reserve the equipment by searching for "camera digilab" in the library search.