Podcast studio
Borrow our podcast studio, located in the library DigiLab. Four microphones, headphones and sound table are available.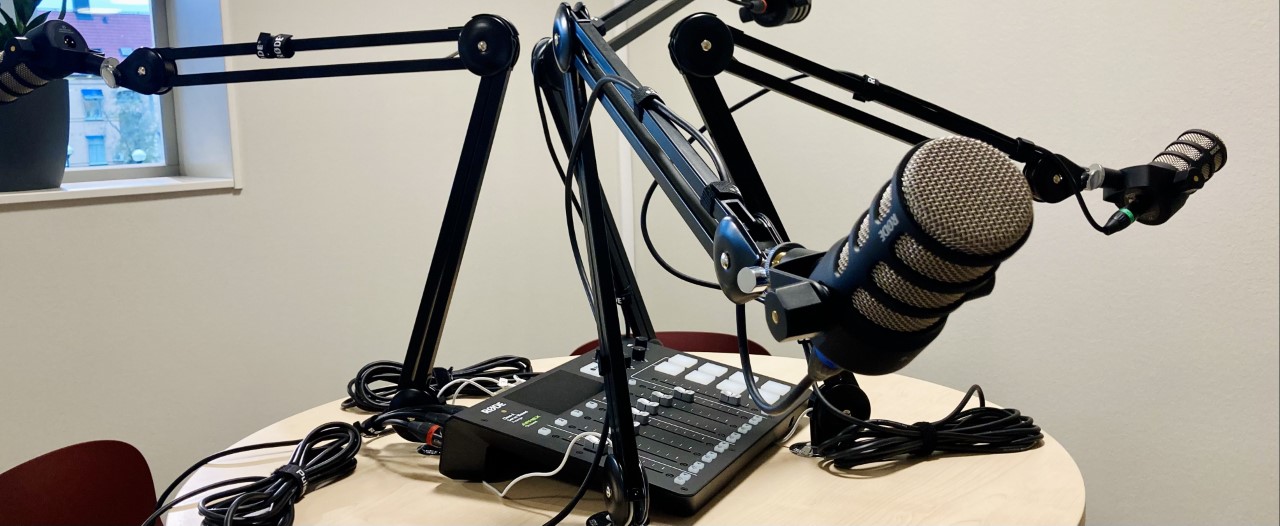 On the first floor of the library you can find our podcast studio. Use it to record podcasts or audio tracks. The library cannot help you to make an recording, but you can find some tips of how to do it on this page.
Note!
Always make a test recording before you start. Listen through your test and notice if all voices are well heard. No voice recording should be too loud or too weak. Adjust the sound levels with the controls on the sound board.
Remember to also put a note on the door saying "recording in progress".
How yo use the pod equipment
Borrow our pod headphones and power cord at the library information desk.
Plug in the number of headphones you need and the power cord. The headphones are plugged into sockets under the tabletop, under to the microphone you want to use.
Plug in your computer with the USB cable.
Turn on the audio table by pressing the red on/off button
Launch a recording software on your device. If you have not used this type of equipment before and are not sure which software you can use, see our instruction on the online tool Podcastle below. If you want to have several audio tracks available for each voice recording, you can choose to record to our SD card. You can borrow a card from the library information desk. To manage multiple audio tracks, you can use the software Audacity.
Adjust the sound settings with the knobs on the sound table according to your needs and preferences.
Press REC when you are ready to start recording.
Press REC again to end your recording.
Switch off the equipment with the red on/off button.
Collect headphones, power cord and USB cord (and possibly SD card) and return them to the library information desk.
Adjust your microphone settings with Adobe Mic Check
If you feel unsure about how to get the optimal sound settings for your podcast, you can use the Adobe Mic Check tool. Speak a sentence into the mic and Adobe assists with tips on how to adapt your placement of the microphone and what to adjust in your sound settings.
Read more on Adobe's Mic Check webpage
How to use Podcastle to record audio
Podcastle is one of the online tools available to record audio and video. To use it, you will need a laptop with a web browser.
Open podcastle.ai in your web browser and click the "Log in" button.
Create an account or choose to log in with Google, Facebook or Apple ID.
Connect your computer to the sound table with the USB cable.
Once you are logged in to Podcastle, click on "Create +" and choose to create a "Recording".
Enter a title for your project and then choose to record "Audio only".
In the next step, choose not to record any video. Double check that the "RODECaster Pro Stereo" microphone is selected. You can digitally invite outside guests (who are located elsewhere) in order to also record their sound.
Click "Continue" to start recording.
Click "Leave" to end the recording.
When your recording is complete, you can view the audio track in Podcastle. There you can adjust the settings or add more sounds.